CHAO PHRAYA RIVER CRUISES BANGKOK THAILAND
---

The River of King Thailand "CHAO PHRAYA RIVER" is a major river of Thailand. It Graceful snake from the north to central region, ending in Bangkok where it enters the Gulf of Thailand. The Choaphraya River is 370 kilometers long and approximately 150e wide 15 meters deep. Traces of the early Rattanakosin period such as architecture and traditional way of life, Buddhist temples, can still the found in areas along the River, largely hidden to those who travel by land.
The Chao Phraya River served as the main avenue of the city of Bangkok in the past. Therefore, all significant structures can be found on both banks of the river as places of worship under constant repairs and residences of royals and noblemen and head offices of Western companies that were frontrunners in trade. A cruise on the Chao Phraya river thus gives on an insight n the past of Bangkok, apart from an enjoy able stroll on the river itself.Welcome aboard to Thai River Cruise, Enjoy to Bangkok river cruise trip along Chaophraya river Bangkok Thailand. Come and enjoy to Bangkok dinner cruise on the Chao phraya river every night.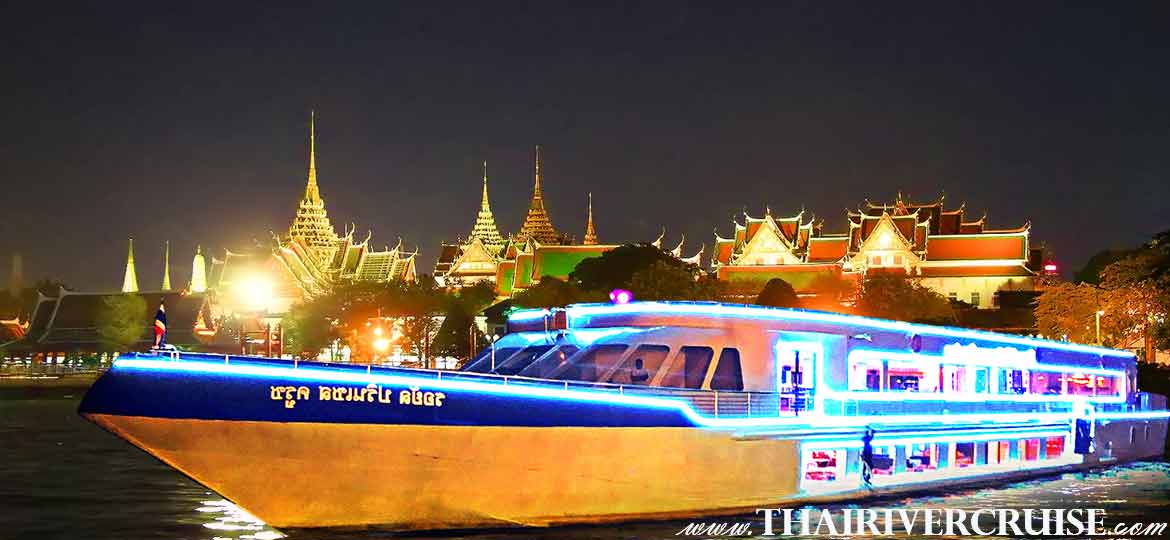 Royal Princess Cruise, The Royal Princess Cruise, the new Bangkok luxury large and elegance modern dinner cruise on the Chaophraya river Bangkok, Thailand. Royal Princess Cruise, cone and enjoy to a beautiful night journey on the Chao Phraya river the most relaxed way to see some of Bangkok's most iconic sites. Sample Thai cuisine, Western, Japanese and sea food and a wide range of delicious desserts on buffet line. Royal Princess Cruise will lead you up along the river of king "Chaophraya river".  
Read More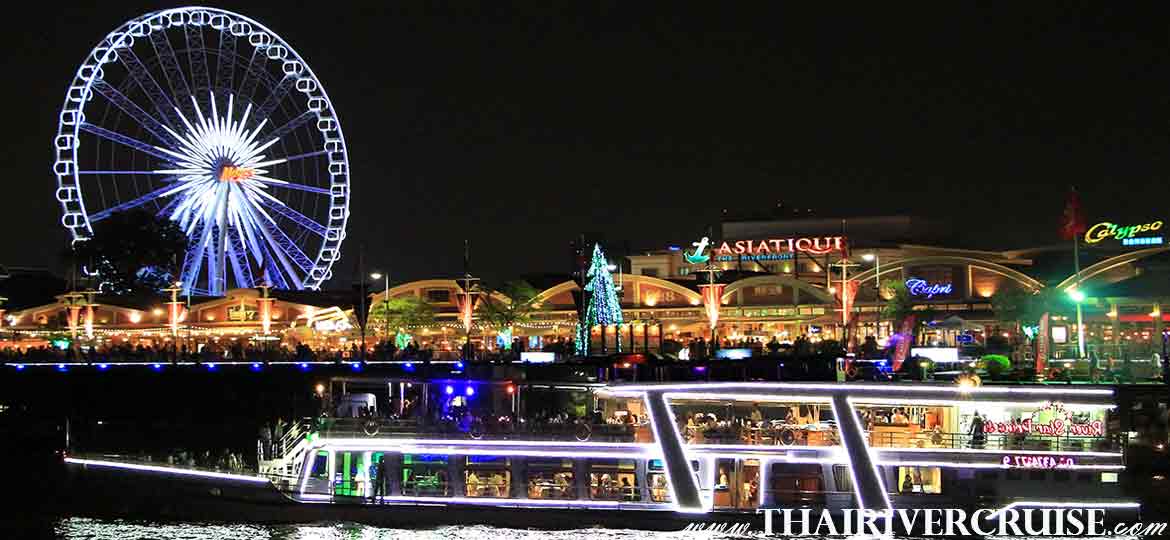 River Star Princess Cruise
River Star Princess Cruise, Welcome aboard the River Star Princess Cruise and spend an exciting and memorable 2 hour-long evening cruising and dining along the Chaophraya river enchanting magical atmosphere which is something you shouldn't miss.  If you are looking for an evening out, we are sure you will love the evening with us.  The Tranquil river setting is the perfect place to relax and enjoy good food, excellent service and fabulous river scenery while relishing time spent with your special ones.  
Read More

​
---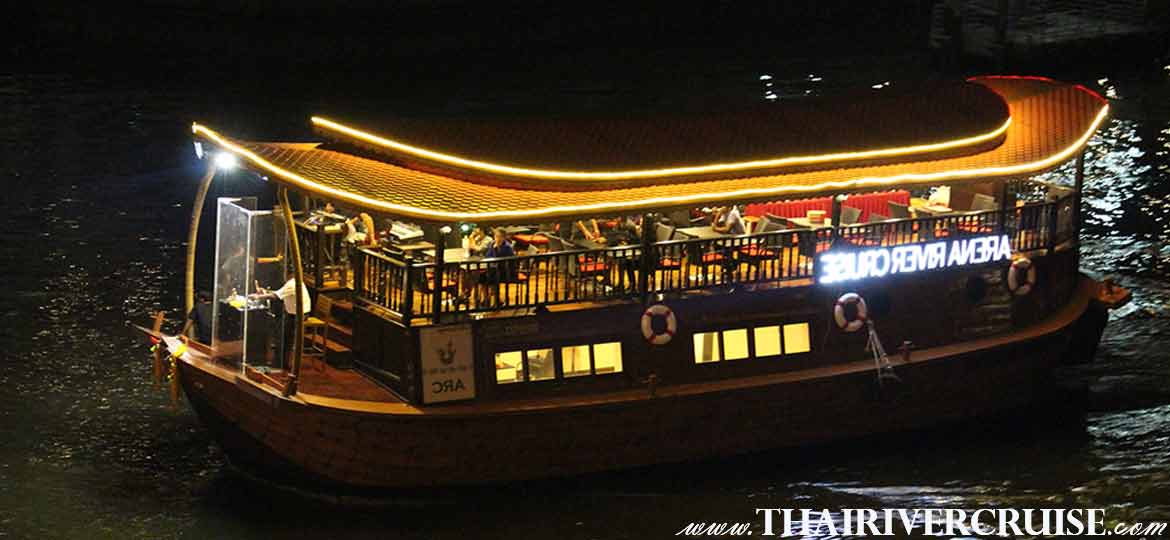 Arena River Cruise Indian Dinner Cruise Bangkok. Best of traiditional rice barge india dinner cruise in Bangkok. Indian dinner cruise bangkok-live indian singer by Arena river cruise,The only authentic Indian Dinner Cruise in Bangkok. Arena River Cruise offers Indian food buffet (veg & non-veg) with live Indian Singer and DJ on board. Dine, drink and dance to the tunes of the singer while cruising along the magnificent Chaophraya River. Enjoy breathtaking views of temples and the beautifully lit up riverside venues such as the Temple of Dawn, Grand Palace, Rama 8 Bridge among others 
The perfect way to take in two brilliant cultures at once!. Enjoy verry night in Banglok 
Read More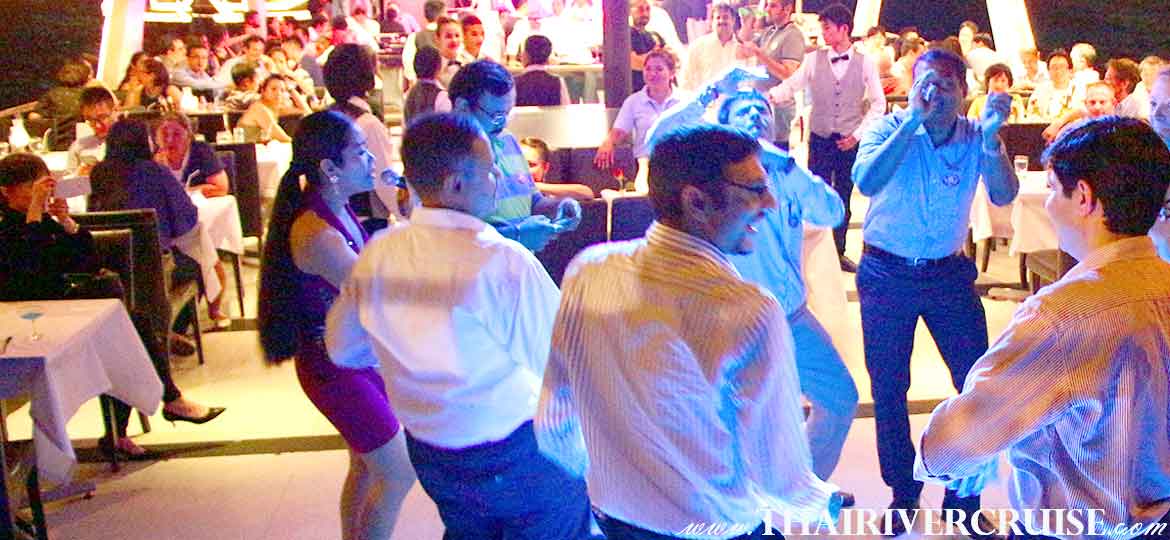 Modern Indian River cruise
Modern India dinner cuirse on the Chaophraya  river Bangkok. Welcome Aboard " Modern Indian Dinner Cruise Bangkok, the atmosphere is comfortable and romantic with a saxophone solo off from river cruise pier and passes a number of remarkable landmarks, such as the river Bangkok attraction, Temple of Dawn, the Temple of Emerald Buddha, Bang Khunprom Palace, Kanlayanamitr Temple, Krungthon Bridge, and the Oriental Hotel and five-star river hotel and Iconsiam. You will be fascinated with all the adorning lights all the way until our cruise terminates at Shangri-la Hotel. International buffet, Indian food and vegetarian food onboard.enjoy to dance with live band music 
Read More